Welcome! The Women and Religion Movement is alive and well in the 21st Century. A grassroots project started by lay leaders in the 1970s as an effort to promote examination of religious roots of sexism and patriarchy within the UUA and beyond, UU Women and Religion officially began as a task force following the unanimously-passed WOMEN AND RELIGION RESOLUTION at the 1977 UUA General Assembly. Although the Task Force was eventually sunsetted, the movement still exists in UU Districts that hold Women & Religion programs and woman-focused gatherings. It exists at General Assembly, where UUW&R has an annual gathering and a booth in the display area. And it lives in the hearts and lives of women and men who have been touched by the many changes inspired by this movement.
"We do not want a piece of the pie. It is still a patriarchal pie. We want to change the recipe!" -- Rosemary Matson
videos and more about UUW&R
Introducing Lucile's Red Notebook, curated by Liz Fisher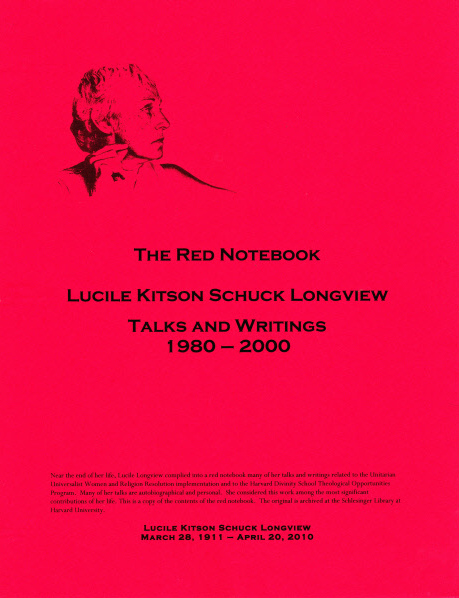 Lucile Longview was the initiator and primary author of the ground-breaking 1977 Unitarian Universalist Women and Religion Resolution and a crusader for women's human rights and equality in the family and community. She was a radical visionary in the traditional meaning of the word – addressing the root causes of sexism. The role that patriarchal religion has played in the oppression of women is something that Lucile was deeply committed to exposing.
During the last years of her life, she assembled into The Red Notebook what she felt were the best and most herstorically relevant of what she wrote from 1980 to 2000. These writings and presentations were delivered at meetings of Unitarian Universalists and at Harvard's Theological Opportunity Program and appeared in a variety of publications.
Liz Fisher, a friend, colleague, curriculum author, essayist and sister activist in the Women and Religion movement has curated this website (sponsored by UUWR). Liz has posted facsimiles of the original documents embellished with her own notes suppling context, background, observations and interpretations. From the Introduction on the website, Liz comments: "I knew Lucile from the 1980s to the end of her life and frequently discussed with Lucile the personal and political impact of the Women and Religion Movement, both within the Unitarian Universalist Association (UUA) and in the larger society. Lucile's daughter, Linda Schuck, gave me a copy of THE RED NOTEBOOK hoping it would be shared with others since the material is still very timely. I am honored to be doing just that."
This is a precious gift from one of our great foremothers. To continue this work is the best form of gratitude we can offer to her.
Lucile, ¡Presente!
Economic and Reproductive Justice Top Priorities for UU Women

In late summer of 2015, the UU Women's Federation (UUWF) invited UU women at GA and online to respond to nine survey questions. When asked which of the issues affecting women are most important to them, survey participants focused on economic and reproductive justice. Equal pay, abortion, and contraception were ranked the highest, followed closely by gender-based and domestic violence. Other issues that are front-of-mind currently include insurance, environment, and human rights. It is encouraging that the UUWF already has a broad focus on a wide range of issues that impact women and girls, and yet the survey also gives them scope for broadening their work.
Over 225 responses were received. They have summarized the results. The complete tabulation is also available. UUWF wishes to thank all those who participated.