Welcome! The Women and Religion Movement is alive and well in the 21st Century. A grassroots project started by lay leaders in the 1970s as an effort to promote examination of religious roots of sexism and patriarchy within the UUA, UU Women and Religion officially began as a task force following the unanimously-passed WOMEN AND RELIGION RESOLUTION at the 1977 UUA General Assembly. Although the Task Force was eventually sunsetted, the movement still exists in UU Districts that hold Women & Religion programs and woman-focused gatherings. It exists at General Assembly, where UUW&R has an annual gathering and a booth in the display area. And it lives in the hearts and lives of women and men who have been touched by the many changes inspired by this movement.
"We do not want a piece of the pie. It is still a patriarchal pie. We want to change the recipe!" -- Rosemary Matson
videos and more about UUW&R
General Assembly 2014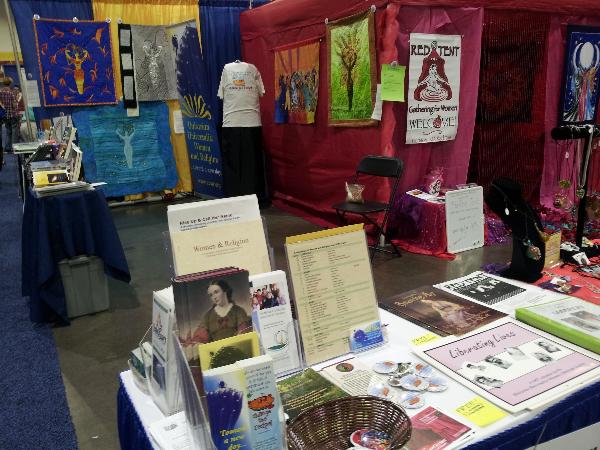 At General Assembly 2014 you could find UUW&R in exhibit hall booth 114.
Many many thanks go out to the cadre of women who helped make GA2014 spectacular for UUW&R. I spent most of my time in the Store area talking with dozens of well-informed and committed UUs every day. Nancy Aurora Rogers and Kat Graham who organize a regular Red Tent Women's Gathering at the UU Church of Marlborough and Hudson Massachusetts, lovingly guided the sacred space that was The Red Tent. Hundreds of women spent time in the tent, by themselves or with whoever gathered at that moment. Most said there was a clear shift of energy upon passing its threshold, and one told me she could feel the energy from several yards away.
The Red Tent was not only a sacred space dedicated to women's spirit, it was breathtakingly gorgeous. My photos (more on Facebook) don't do it justice. Nancy's are better (her Facebook album). Dozens of people felt compelled to take their own pictures of it, whether they entered the space or not. It was, if not THE hit of a GA where many spectacular events come together, at least a very memorable visit for a large number of women. I think many got the ideas that we not only need sacred space of our own, we can create it ourselves. I hope many were inspired to create a similar experience in their communities. The Red Tent is only one of the many forms women's sacred space takes. How do you gather with your sisters?
A To-Do to Gain Control of Violence toward Others
Back on January 23, 2012, I attended a Key West discussion in the UU One Island Family meeting room. The Rev. Randy Becker gave this introduction, acknowledging that it had been 40 days since the Newtown Massacre: One of the time-honored formulas of many religious traditions is the "40 days and 40 nights" one. Time to sit, live, walk, sleep, dream with the emergent realities of any situation for that period of time, allows for a necessary movement from shock through anger and depression to something more creative. That period is happening, more and more -- one was the Pittsburg high school stabbings. Rev. Randy said that such violent acts bring up questions about our culture, system of rights and privileges, our quest for security and our values.
"Songbird Hunter: What We Each Could Notice in Order to Help" - My thoughts in fictional form