Pacific Central District Women's Retreat
SW UU Women's Conference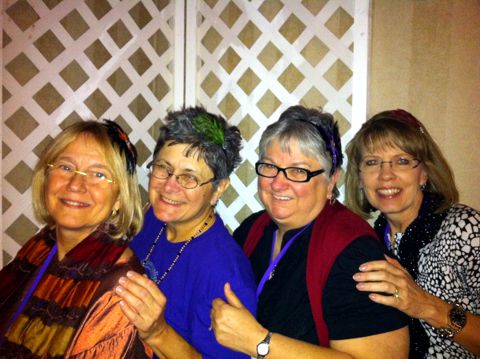 SouthWest UU Women held their 25th annual Conference, "Generation NEXXT" in Dallas Texas on March 3-5. Despite their keynote speaker having to cancel at the last minute due to family illness, the SWUUW women were up to the challenge. Participants commented:
"Big Bad Gina ROCKED! It was so fun to dance to their music, and just be entertained by them!"
"I thought Intern Rev. Megan [Dalby-Jones] did a very good job of delivering the message that Rev. Tambra Lebak was to have given."
Birthright: The Third Wave
While at the [SWUUW] conference this year, I wrote a tribute poem to the women of SWUUW in particular. From the third of wave of feminists to you all...thanks.
Birthright: The Third Wave
She changes everything she touches
The women in my life have been a sacred circle;
They are weavers of a web of history and love,
Committed to change, committed to justice, committed to the journey.
(We are sisters, on a journey, singing out as one)
Their threads have led me to books and music and protests.
Their threads have held me suspended and safe, saved me from
An abyss of self loathing.
Their threads have mended me when I was frayed and
Pieced together disparate cloths, fabric from the different pieces
Of my soul.
Their voices sing for freedom.
Their bodies and minds have met injustice and suffering.
Their bodies and minds have delivered miracles,
The soft flesh of newborn
Ideas.
They have given me a labyrinth for contemplation
And songs to sing outside the capitol
Or the detention center
Or in my classroom
Or in my daughter's room, at night as she sleeps.
They have given me the bright colors of patchwork quilts
and hippie skirts
and I wear them in my hair
and on my toes
and emblazoned in tattoos.
They have given me gardening tools and seeds,
And a little plot of ground to green
And I call this place
Mine
Although I will gladly share the harvest
After the seeds have become vegetables and fruits and flowers.
There is a basket for each visitor—you can fill one if you like.
Just plant some seeds yourself,
There's plenty more space
In this community garden.
We can share the compost pile,
it is rich and full and warm.
(Heyanna hoyanna heyanna ho)
We are struggling, each of us in our own place on the path
To the center.
Some of them are waiting for me now,
Already there,
And I can hear their voices, softly:
(And everything she touches changes.)
--Sarah Oglesby-Dunegan
A New Day for the Women's Treaty Comes!
December 3, 2010
There are significant "if's", but I feel hope that
the Senate's "lame duck" session
could find enough bi-partisanship to ratify the women's treaty, after 30 years of us working on this! Since WOMUUNWEB has given continuing coverage of this issue throughout the years, I will only add that it looks like we women of the United States would most gain clout to close the pay gap, reduce domestic violence and stop trafficking if
CEDAW, the U.N. Convention for the Elimination of All Forms of Discrimination Against Women treaty
, were ratified for our use.
We would gain more strategies from the blueprint this women's treaty
gives. Now, as we follow the news of this treaty going to the Senate floor for a vote, we must keep in mind that the Senators have to deal with the START treaty ratification first.
November 18, I was so glad I put in the effort to travel to the Dirkson Senate Office Building for the CEDAW hearing, Arriving off the elevator into the large crowd (in two halls of the hearing room floor), delighted me almost to tears. Such happily pitched music from female talk greeted me. So many were so young! And they all seemed to be excitedly expectant of the best outcome from the hearing. I believed I truly belonged to the crowd's flow of positive energy when I was given my "CEDAW 2010" sticker to wear.
CEDAW Hearing Testimony
November 17, 2010
Through two active memberships I have long held in the International Association of Liberal Religious Women, IALRW, and the Unitarian Universalist Service Committee, UUSC, I have had years of exposure to the importance of CEDAW in women's lives around the world. My country of the United States' needs for the CEDAW investment of fairness may have different realms of focus such as the pay gap between men and women's work, but this women's treaty's definition for what discrimination against women is rings just as true.
[Helen Popenoe near photo center in red and gold] (photo copyright 2010 Jim Wells Phtotgraphy)
As I understand it from UUSC's curriculum, "Gender Justice: Women's Rights are Human Rights", the definition is that it is any distinction or restriction made on the basis of sex which has the effect or purpose of impairing the recognition, enjoyment or exercise of human rights. Article Two mandates governmental condemnation of discrimination against women in all its forms and to ensure that national legal frameworks embody the principles of equality between men and women.
I will stand proud as a U.S. citizen when Senate ratification and the President's signature shows the world how much we value women's ability to contribute to the betterment of the lives of humankind.
( IALRW, at age 100 years, is the oldest active, interfaith religious women's organization in the world and UUSC, at age 66 years, is active in the world confronting political, cultural and economic oppression.)