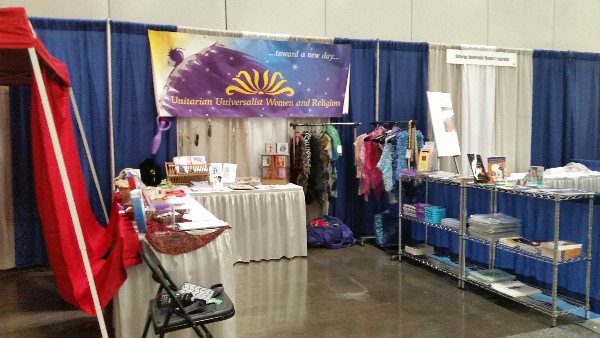 UUW&R would like to invite our UU women's groups holding regional retreats to bring 2017/2018 promo materials to the UUW&R exhibit booth at GA in New Orleans. Your board members are welcome to help staff the booth and talk to people about your organization. It is quite effective to notice on people's name tags where they are from, and talk to them about your group and your gatherings.
We suggest business cards, 1/3 page or trifold flyers, as space is somewhat limited. All our regional UU women's groups are being invited to participate. UUW&R has plenty of brochure holders and will supply those.
UUW&R will have several exciting new books to sell this year along with our traditional curricula and resources like Cakes for the Queen of Heaven and Rise Up and Call Her Name. Watch for an announcement!
We'll also have the Red Tent in our exhibit hall space – a place where women can go for quiet time, conversation, or a small group activity (some of which are planned and facilitated).
The costs of exhibiting at General Assembly are high. Booth space alone is $1500. UUW&R is asking for voluntary donations of $100 or more from any of our groups who want to participate. You do NOT have to donate to participate, but it helps us defray some of the costs of maintaining a GA presence for promoting UU women's groups and their events. A time commitment toward staffing the booth is also much appreciated.
If your group has a banner or sign, please contact me to arrange for space for such things. UUW&R displays an 8ft by 3ft banner along the back wall of the booth. Quilts or smaller signs are welcome and can be displayed along the outside (or perhaps inside!) the Red Tent.
If you let us know you want to participate by April 21. UUW&R will include your group contact info in our communications about our General Assembly presence.
Gretchen Ohmann
UUWR Convener
P.O. Box 1021, Benton Harbor MI 49023
269-369-1114