STUDIO AURORA: About Us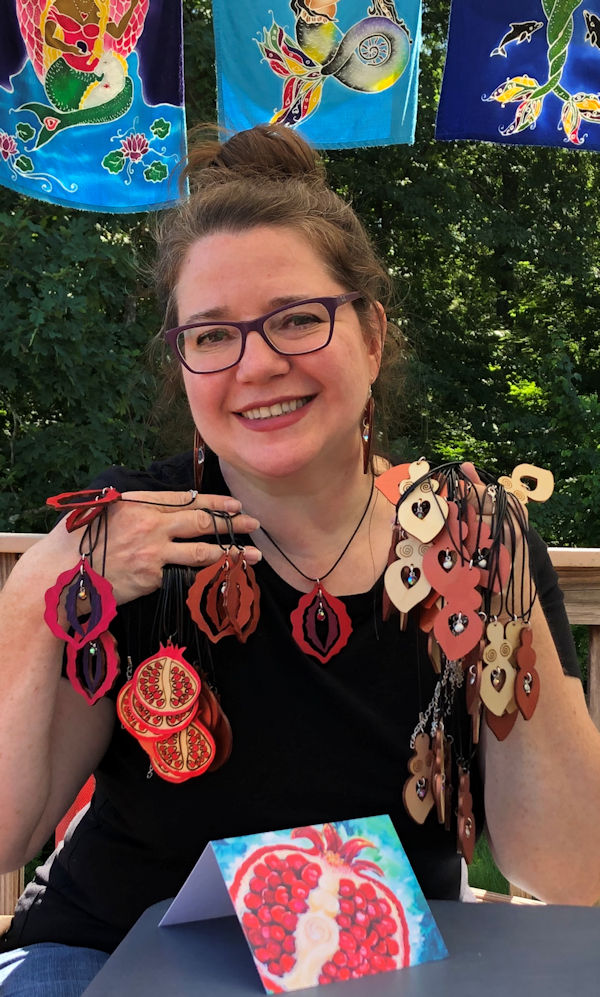 "I founded Studio Aurora in 2020; my ideas had been gestating for awhile, but I sensed the time was right for new beginnings; and how the world can benefit from a little more beauty and WomanPower! My designs feature artwork inspired by the Divine Feminine, my Unitarian Universalist spirituality, and my 9+ years as a Women's Red Tent founder and facilitator. It was my vision to create fun statement pieces and oversized earrings that I couldn't find anywhere else, and that I'm excited to wear. I use an industrial laser cutter at my local Maker space to create my original design lightweight wooden earrings and pendants. My paintings in acrylics are created in my own little home studio, where I'm surrounded by love, support, empowerment, and 4 ginger cats.
Studio Aurora is a passion project: I get to use my own creative voice, develop the artwork that I would like to contribute to the world and keep it fun and soulful. 'Aurora' is a family name (and my belly dance name!); invoking it is a gesture of gratitude and respect for my matrilineal heritage. 'Aurora' is also the Italian word for 'dawn', and speaks of new beginnings. There is nothing more deeply touching and connecting than when my artwork resonates with a client; it is the ultimate privilege to share my heart with you, and my vision of upholding the gift it is to be a woman.
I hope you have as much fun wearing these pieces as I had making them. And as my Grandma Aurora would say to you: 'Wear it in good health'. Peace, health, abundance, and love to you! xoxo"
Nancy Aurora Rogers, Founder/Designer
Studio Aurora StudioAuroraArt@gmail.com
Earring and Pendant Materials: Lightweight laser cut 1/8" premium Baltic birch plywood. Face is finished with tung oil; back is painted with acrylic paint, then shellacked. All items are handmade; please allow for slight variations.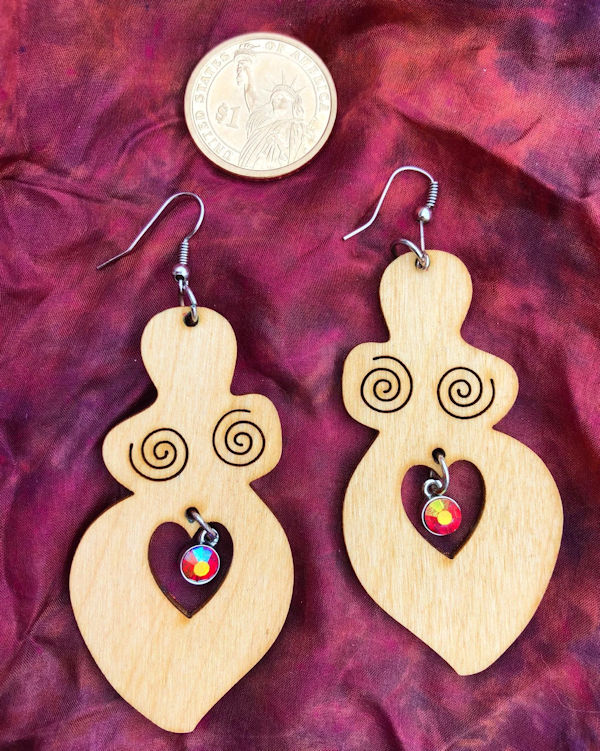 Charmed Goddess earrings
LARGE WOODEN EARRINGS - $17
Make a statement! Celebrate the energy of the Divine Feminine with dramatic curves, spirals, and a bejeweled heart.
Back is iridescent copper. Glass charm w/AB finish
Approx. 2-7/8"H x 1-1/2"W excluding silver tone hardware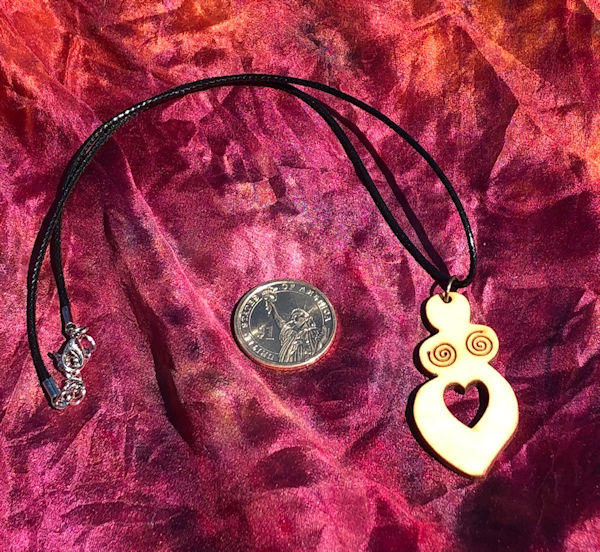 Sweet Goddess pendant
PENDANT on black waxed cord with lobster claw clasp; 18" with 2" adjustable chain
Divine Feminine energy abounds in sweet curves, spirals, and a cutout heart. Back is iridescent copper.
Approx. 2"H x 1"W excluding antique bronze hardware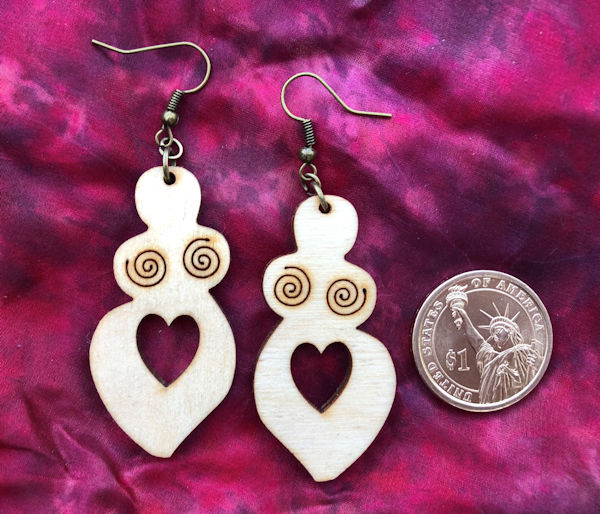 Sweet Goddess earrings
SMALL WOODEN EARRINGS - $12
Divine Feminine energy abounds in sweet curves, spirals, and a cutout heart. Back is iridescent copper.
Approx. 2"H x 1"W excluding antique bronze hardware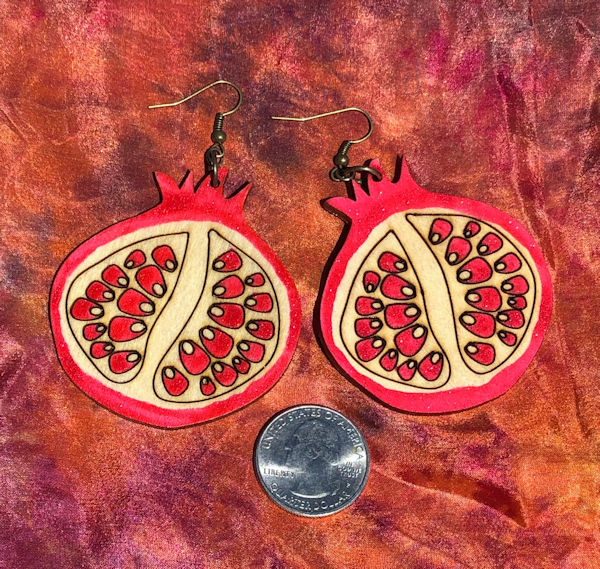 Pomegranates earrings
An enduring symbol of the Feminine, the pomegranate represents abundance, fertility, and life.
Approx. 2-1/4"H x 2-1/8"W excluding antique bronze hardware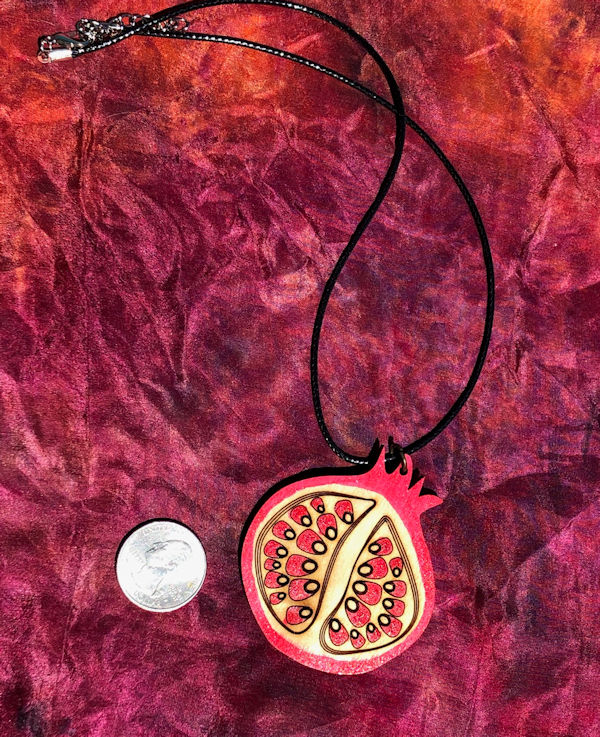 Pomegranate pendant
An enduring symbol of the Feminine, the pomegranate represents abundance, fertility, and life.
On black waxed cord with lobster claw clasp; 18" with 2" adjustable chain.
Approx. 2-1/4"H x 2-1/8"W excluding antique bronze hardware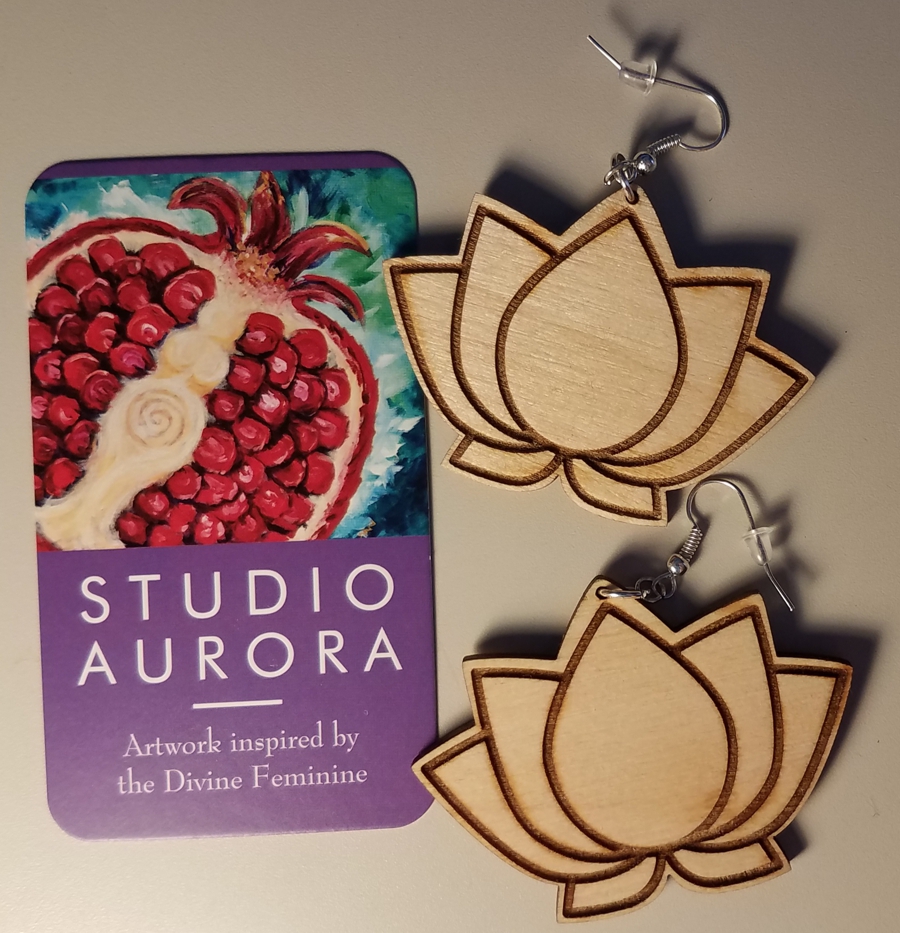 Lotus Flower Earrings
Quintessential spiritual symbol!
Approx. 1.5"H x 2"W excluding antique bronze hardware