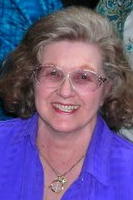 11/23/2020 Meg has passed away. A retired Sociologist, Meg was a great-grandmother who remained active in OWL (Older-Women's League) and W&R: UUA (Women & Religion: Unitarian Universalist Association). Originally from North Dakota, Meg lived in northern California since 1961.
She bequeathed to UUWR the rights to continue publishing her books!
The Rest of Meg's Books
We're working on scanning and republishing these. Please use the Donate button on the bottom of the page if you'd like to help with this project.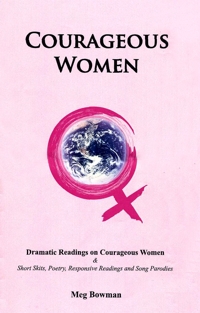 Courageous Women -- Dramatic Readings on Feminist Issues, Vol. VII
Eight Courageous 19th Century Women: Margaret Fuller; Julia Ward Howe, Mary Livermore, Susan B. Anthony, Olympia Brown, Elizabeth Cady Staton, Clara Barton, Charlotte Perkins Gilman.
Courageous Olympia Brown (1835-1926)
Courageous Margaret Sanger (1879-1966)
Courageous Wangari Maathai (Kenya)
Short Skits, Poetry, Responsive Readings and Song Parodies. This is Meg's 12th book. MB-CW currently in revision and available in 2024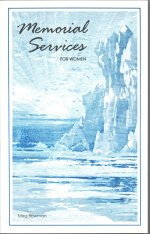 Memorial Services for Women. Non-theistic. 156 pages.

MB-MS
Women's History: Dramatic Readings . . . 210 pages.
Sappho, Hypatia, Mary Wollstonecraft, Deborah Sampson, Emma Goldman, Elizabeth Gurley Flynn.
MB-WH
Celebrating Ourselves . . . 142 pages.
Biographies of the Pacific Central District Women & Religion.
MB-CO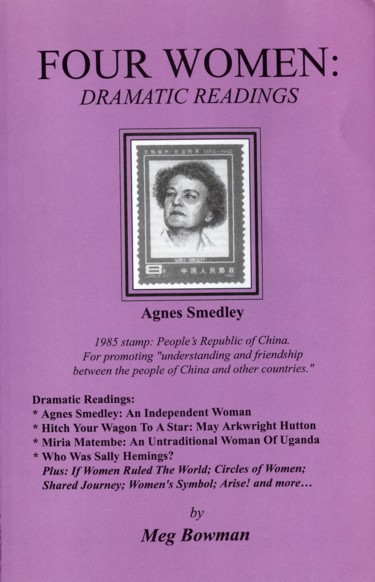 Four Women. 306 pages.
Ideal for readers theater: Agnes Smedley - An Independent Woman, May Arkwritgt Hutton - Hitch Your Wagon to a Star, Miria Matembe - Bog Mouth: An Untraditional Woman of Uganda, Who Was Sally Hemings? plus poetry and readings.
MB-FW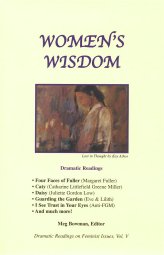 Women's Wisdom . . . 205 pages.
Readers theater on Margaret Fuller, Catharine Greene, Juliette Gordon Low, plus an anti FGM dramatic reading and more.
MB-WW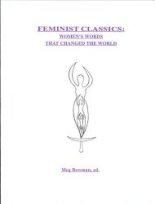 Feminist Classics: Women's Words That Changed the World. 179 pages.
Short articles, poems, book segments, humor from the "Second Wave of Feminism", designed as consciousness raisers.
MB-FC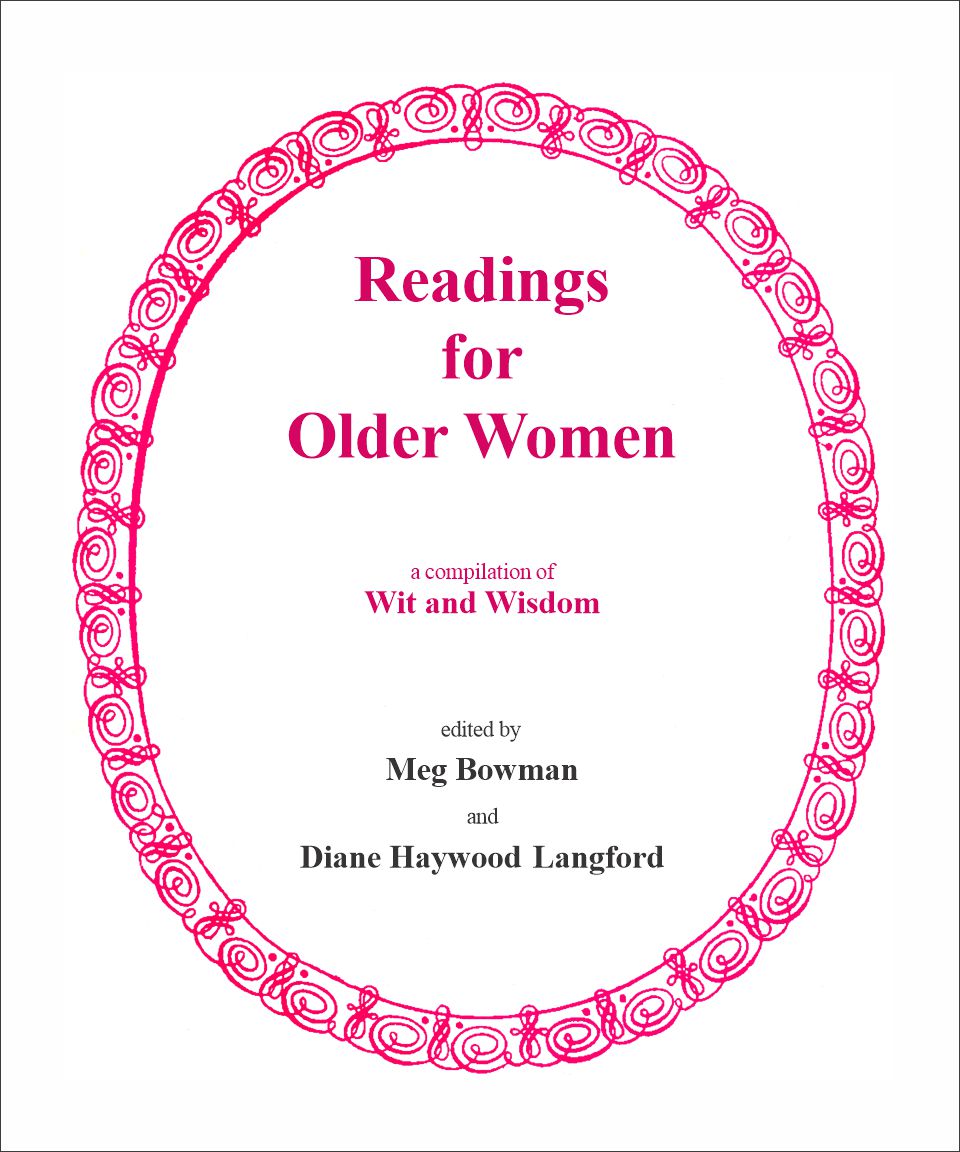 Readings for Older Women
NOW TAKING PREORDERS!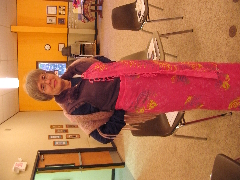 If you order this along with other items, the book will be shipped when available at no extra charge. Books expected to be available in late April, 2023.
Edited by Meg Bowman and Diane Haywood Langford
We grow older each day, each moment. How precious the fragile strand of life! We grow wiser each year, each month. How good to feel that, at last, we are our own person!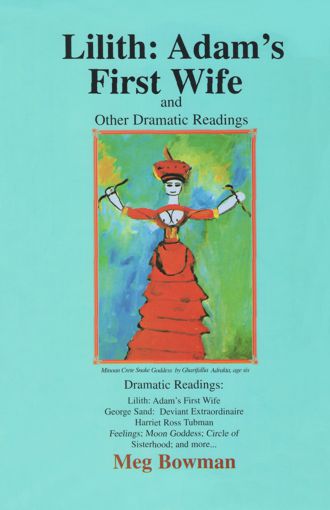 Lilith: Adam's First Wife
... and other dramatic readings
Ancient Lilith returns to tell Modern Lilith what really went down in that Garden of Eden. Includes readings on George Sand, Harriet Rose Tubman, Moon Goddess, 10 Minute History of Patriarchy, Circle of Sisterhood and more.
Meg Bowman taught Sociology in Northern California and led international study tours.
Readings for Women's Programs
This small collection of readings is designed to raise consciousness, enhance feelings of Sisterhood, and encourage, inspire and promote feminist values. Use the readings to open and close meetings or just enjoy reading them yourself.
Meg Bowman, PhD, was a professor of Sociology at San Jose State University, and author and a lecturer. Connie Springer is a graphic design and production specialist. Both are veteran activist in the women's movement.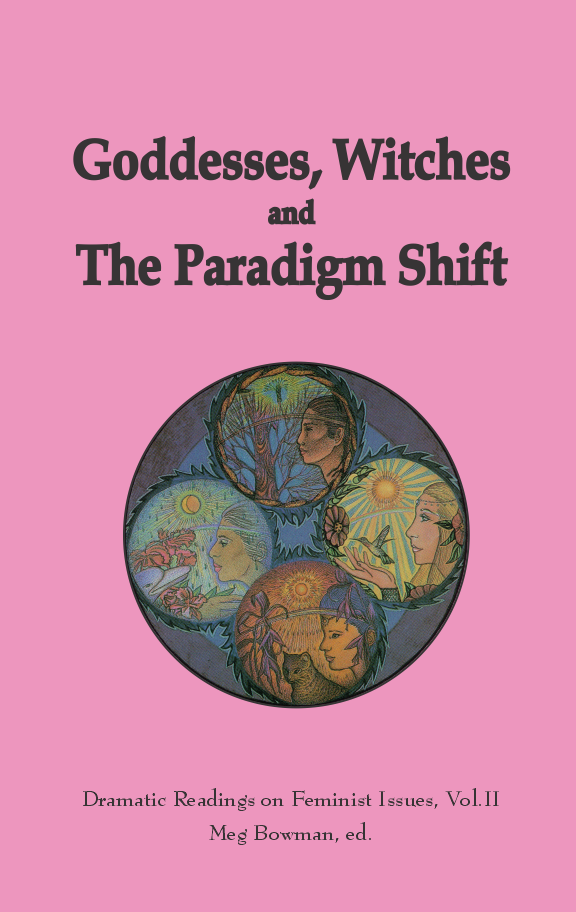 Goddesses, Witches and The Paradigm Shift
This essential book of dramatic readings by Meg Bowman contains:
Goddesses, Witches & the Paradigm Shift
Celebrating Ourselves (International)
Four Famous Unitarian Universalist Women: Susan B. Anthony, Clara Barton, Dorothea Dix, Margaret Fuller
Bella & Phyllis by Milton Loventhal and Jennifer McDowell
Three Admirable Women: Florence Nightingale, Frances Willard, and Jane Addams
Finding Our Foremothers: Emily Stowe, Frances Perkins Gilman, Frances Power Cobbe by Rev. Maureen Killoran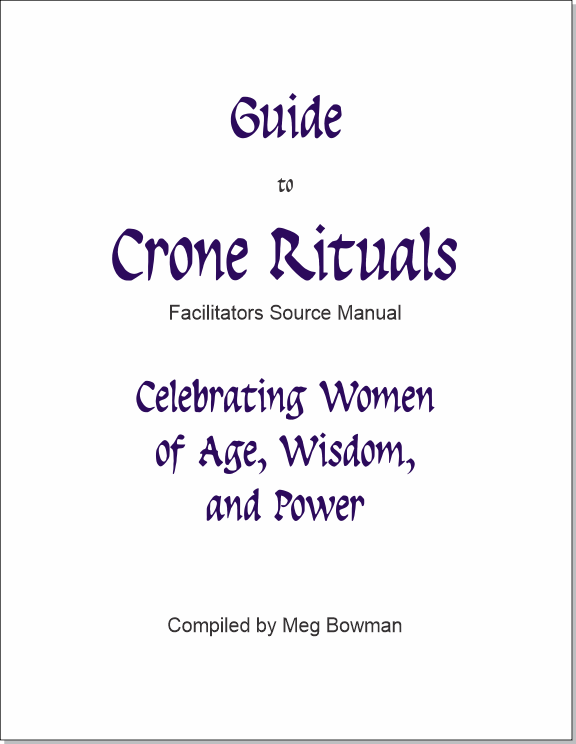 Guide to Crone Rituals
Meg said, "These Crone Rituals reflect my own response to insecurities about aging, and the realization that most women must come to terms with their own aging in an ageist and sexist culture that denigrates the reality of age." Available in original paperback while they last, or 2022 revised spiral-bound edition.
Meg Bowman, who passed in 2020, was a professor of Sociology, and a veteran peace, civil rights and feminist activist. Author of ten books, she has also published numerous books, essays, travel pieces, book reviews and collections of humorous flyers. Born in North Dakota in 1929, Meg lived near San Jose, CA for many years.

18-page Sneak Preview! (PDF)
Downloadable PDF also available.
Guide to Crone Rituals - download
Meg said, "These Crone Rituals reflect my own response to insecurities about aging, and the realization that most women must come to terms with their own aging in an ageist and sexist culture that denigrates the reality of age."
18-page Sneak Preview! (PDF)