Dorothy May Emerson
Rev. Dr. Dorothy May Emerson * 
November 20, 1943 – May 13, 2019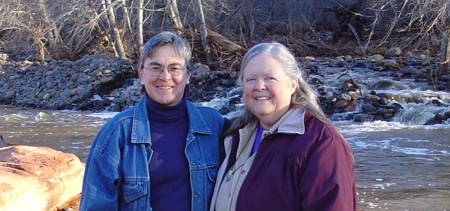 Rev. Dr. Dorothy Emerson [at right in photo] was a semi-retired Unitarian Universalist minister up until her untimely death in May of 2019. She and her spouse Donna co-founded Rainbow Solutions to promote socially responsible investing as an important tool for social change and to offer consulting services to support those who want their lifestyles and business practices, as well as their money, to reflect their core values. After Donna and associates launched Rainbow Investment Solutions, the focus of Rainbow Solutions was on Dorothy's ministry and publications.
Dorothy gave public lectures and led workshops and worship services. She also performed weddings, funerals and memorial services, child dedications, and a variety of other special rituals. She specialized in interfaith ceremonies, personally designed for participants' needs and values.
Dorothy edited and published feature articles and books. She also helped create programs to help adults grow spiritually and gain insight into ways to implement their values in daily life.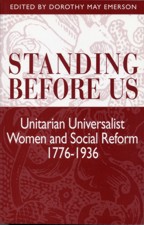 Unitarian Universalist Women and Social Reform 1776-1936 Edited by Dorothy May Emerson
We still confront many of the same issues faced by our foremothers. By engaging with these women of the past, we hope to empower and inspire today's women and men to continue the work of creating a world of justice and peace for all. -- from the preface. Standing Before Us presents 160 years of women's work. Look inside the book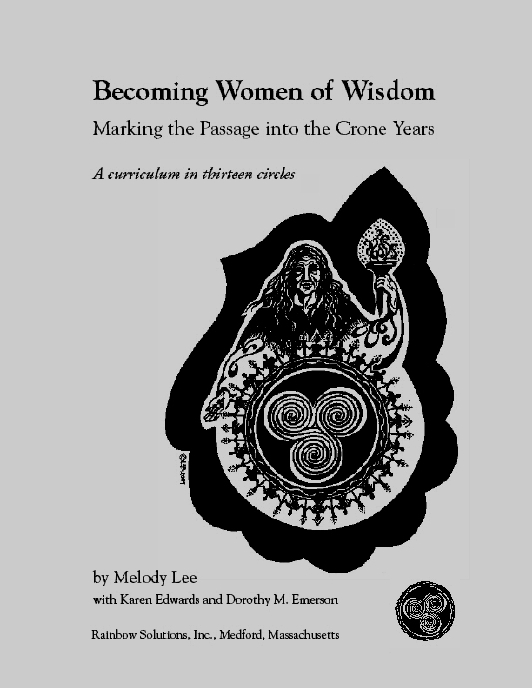 Marking the Passage into the Crone Years
a curriculum in thirteen circles by Melody Lee with Karen Edwards & Dorothy Emerson
Marks with ritual and celebration the rite of passage into menopause and beyond
Explores the transition into the crone years through art, story, poetry, drama, music and dance
Encourages women to share their stories and claim their inner wisdom
Empowers women to share their wisdom with the world and live their ideals
Includes a CD with handouts and resources that are also available as digital download
Read Melody's seasonal Blog at www.cronecurriculum.net
You might also be interested in CRONE STONES by Carol Campbell or
Guide to Crone Rituals by Meg Bowman