Memories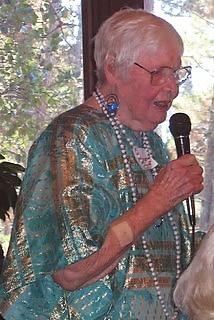 Rosemary Matson — A Woman Without Fear
Rosemary Matson passed away peacefully on September 27, 2014 at her long-time home in Carmel Valley, California. Born on September 20, 1917 as Rosemary Ann Thompson at her family farm in Geneva, Iowa, she was 97 years old. She modeled living by a set of values that included: insisting on equal opportunity and an institutional voice for women; putting a face on the enemy; demonstrating world peace is possible; and standing with workers demanding fair treatment by employers. And, she deeply loved cats, having many close furry friends during her long life.
Rosemary adored grassroots organizing. Over many years she was active in every facet of the Unitarian Universalist denominational Women & Religion activities, from advocating for passage of the 1977 Women and Religion Resolution at General Assembly (she was appointed co-chair of the Continental Committee on Women and Religion) to the 2001 formation of the UUA Women and Religion affiliate. During this period the activities to rid the denomination of sexist practices were vibrant, including: revisioning theology (thealogy), correcting sexist language in hymns and readings, and exposing and transforming sexist attitudes regarding leadership capabilities.
Rosemary was in the thick of it.