More GA 2010 tidbits
By:

Gretchen Ohmann

Hits: 4182
General Assembly is held in Minenapolis, Minnesota this year, beginning June 23. GA is always a great opportunity for learning and networking. Not to mention shopping...
Be sure to visit our exhibit table! UU Women and Religion will be sharing a table in the International Section with the ICUUW. Look for Booth #227. Besides the usual curricula, we'll have lots of the "Change the Recipe" t-shirts (at a special GA only price!) and some gorgeous new pendants by Heather Eschbach of The Waxing Moon.
Also plan to attend some of these great events sponsored by the UU Women's Federation: http://www.uuwf.org/uuwfeventsatga2010.html
Hope to see you at GA! If you can't attend, check our website during that week for photos and comments.
ICUUW Breakfast at GA on Saturday
By:

Laura Nagel

Hits: 4037

ICUUW is a community of Unitarian Universalists and other members of progressive faith dedicated to building global partnerships to enrich women's lives.
Please join us for Breakfast and Annual Meeting
ALL ARE WELCOME!
Saturday, June 26, 2010, 7-8:30 AM
Hyatt Regency, 1300 Nicollet Mall, Skyway Suite, 2nd Level
purchase your tickets $25 online at ICUUW.com
Guest Speakers:
Reema Nanavaty, General Secretary, Self Employed Women's Association, Gujarat, India
Kathy Sreedhar, Director, Holdeen India Program
Voices of the Sacred Feminine
By:

Karen Tate

Hits: 4757
Greetings All,

I was encouraged by friends and radio show listeners to give this a try! They, like me, want to hear topics like we discuss on Voices of the Sacred Feminine on mainstream television instead of the "bread and circus" stories with so little substance the media wastes so much time with. So please, if you would be so kind, check out my vision for a show on Oprah's new television network. This isn't about me. It's more about giving ideals of the Sacred Feminine a platform in the mainstream world. Here's the link below. Please leave a vote for me if you like this and leave comments. I'm really entering this contest very late and have to move quickly to catch up. Please send this around to anyone who might help us accomplish this goal!

http://myown.oprah.com/audition/index.html?request=video_details&response_id=6905
By the way, I interviewed Rev. Shirley Ranck on my Voices of the Sacred Feminine internet radio show last Wednesday night! It's a featured episode and you can download the mp3 to listen!
Blessings and Thanks,

Karen Tate
www.karentate.com
Breakthrough Memes? The Power of Belonging in Community
Hits: 4365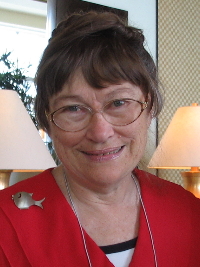 An Asante proverb from Africa says,
"I am because we are and we are because I am."
I ask myself who is in my "we circle"? How far does my circle reach out? Does it make
me a trans-nationalist?
There's so much to unite us as part of the human species. Since the International UU Women's Convocation a year ago, my membership in IALRW, International Association of Liberal Religious Women, has become more precious.
As I look around me, I see, in growing numbers and ways, people seeking community. I bet you see this trend, too. I'm not surprised at this when I look inside myself and feel the warm fuzzies and support that I find in several of my communities. To me this trend is evidence of a positive meme breaking through into modern human evolution. This natural occurrence of a meme is like the genes we pass on to new generations.
Memes are ideas that, spontaneously, find their time to come into a critical mass of human consciousness. A meme breaks through from many sources over the same time period. They click "out of those patterns of thought, habit, and emotion woven into our minds by the people and events around us," say Win Wenger and Richard Poe in The Einstein Factor, a book about the "genius meme."
When I find my still point within, then open my awareness to receive insights through the perception of my right brain taking the lead, I can intuit how to find meaningful living. That's how the insights from memes work. If the time is right, memes travel from mind to mind like a virus. In WOMUUNWEB's last issue, (Summer/Fall) I quoted what Angela Sorby said about this phenomenon in Bird Skin Coat, "…key messages transmit themselves sans messenger." (The article was next to a Cakes For the Queen of Heaven's goddess picture and entitled "Sending Out Breakthrough Vibes.")
Recently, I received from a friend a book review by another friend, Karen Kullgren, that, to me, describes the kind of community building found in participating in the Cakes… course. The book, A Hidden Wholeness: The Journey Toward an Undivided Life by Parker J. Palmer, was recently re-printed in paperback (2009) by Josey-Bass. It's about how "circles of trust" are critical to our survival and growth as spiritual beings and contributing members of society.
This flow toward a more mature consciousness becomes a ministry when in a circle of trust "that invites people to become more of themselves, more whole, as we give witness to a vision of a world transformed by our care," as Marjorie Bowens Wheatley described what ministry is in 2005 (just before her death.) May we all find such beneficent kinship in such meaningful community.
Electronic Media
By:

Gretchen Ohmann

Hits: 4293
A growing trend is the use of
electronic media
like
Facebook
for UU women's events and groups. A few are beginning to use
Twitter
to spread the word. Some have listed events on
WitchVox
. And many are using blogs or websites to communicate event details, facilitate online registration, display photos, network, and share their resources. Our website lists several District and regional UU women's groups and would be happy to link to your UU women's group site or page -- just let us know. And, we'll list your events on
www.uuwr.org
!