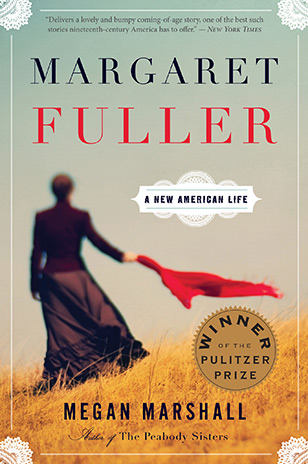 Megan Marshall's much-awaited biography of Margaret Fuller is here!
Advance reviewers have already praised Margaret Fuller: A New American Life as "a magnificent biography," "spectacularly detailed" and written with a "unique intimacy." Emerson's biographer Robert D. Richardson writes, "this is the book Margaret Fuller would have wanted."
Marshall tells the story of Fuller's rise to prominence among the Transcendentalists, her vexed relationship with Ralph Waldo Emerson, the flowering of her feminism in New England and her departure for New York to write for Horace Greeley's Tribune "at home and abroad," leading to her love affair with Giovanni Ossoli—all with fresh insight and uncommon pathos. Synthesizing the scholarship of recent decades and drawing on her own research finds—a new record of Fuller's famous Conversations for women, an Emerson letter describing Thoreau's findings at the site of the fatal shipwreck, an engraving of Rome belonging to Fuller that survived the wreck—Marshall brings our great American heroine to new and vivid life. If you loved The Peabody Sisters, Marshall's first award-winning biography, you will love Margaret Fuller.
Click here to enter to win a book club visit from Megan Marshall!
________________________________________________________
Megan's 2013 Boston-area events:
March 14
Harvard Bookstore
1256 Massachusetts Ave., Cambridge
March 17
Concord Bookshop
65 Main St., Concord, MA
March 20
Newtonville Books
10 Langley Rd., Newton Centre, MA
March 21
Slide talk on archival discoveries, Margaret Fuller's co-ed Conversations
Boston Athenaeum
10-1/2 Beacon St., Boston
April 4
Celebrate Margaret Fuller and Giovanni Ossoli's anniversary!
Porter Square Books
25 White St., Cambridge
April 5
"Margaret Fuller in Love"
Concord Free Public Library
129 Main St., Concord MA
More event info
April 25
Belmont Library
336 Concord Ave., Belmont MA
April 29
"The Passion of Margaret Fuller: A Biographical Romance" benefit lecture for Nichols House Museum
American Meteorological Society, 45 Beacon Street, Boston
(registration required)
May 7
Teresa Hanafin interviews Megan Marshall, Arlington High School Media Center
($10 admission, register at Arlington Community Education or by calling 781-316-3568)
July 8
The Mount Summer Lecture Series
Lenox, MA

July 14
Nantucket Atheneum
Arlington Community Education, May 7, 7:30 pm