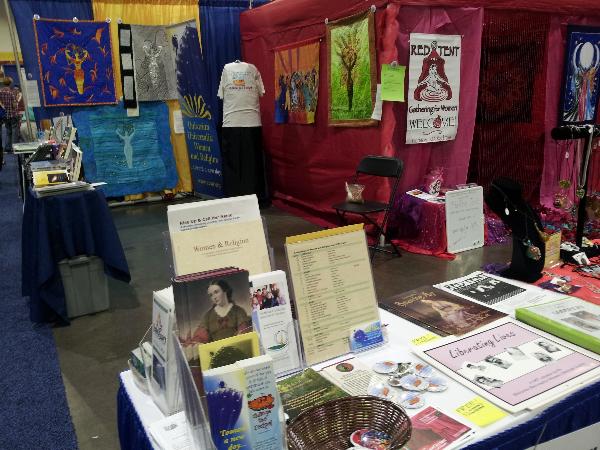 At General Assembly 2014 you could find UUW&R in exhibit hall booth 114.
Many many thanks go out to the cadre of women who helped make GA2014 spectacular for UUW&R. I spent most of my time in the Store area talking with dozens of well-informed and committed UUs every day. Nancy Aurora Rogers and Kat Graham who organize a regular Red Tent Women's Gathering at the UU Church of Marlborough and Hudson Massachusetts, lovingly guided the sacred space that was The Red Tent. Hundreds of women spent time in the tent, by themselves or with whoever gathered at that moment. Most said there was a clear shift of energy upon passing its threshold, and one told me she could feel the energy from several yards away.
The Red Tent was not only a sacred space dedicated to women's spirit, it was breathtakingly gorgeous. My photos (more on Facebook) don't do it justice. Nancy's are better (her Facebook album). Dozens of people felt compelled to take their own pictures of it, whether they entered the space or not. It was, if not THE hit of a GA where many spectacular events come together, at least a very memorable visit for a large number of women. I think many got the ideas that we not only need sacred space of our own, we can create it ourselves. I hope many were inspired to create a similar experience in their communities. The Red Tent is only one of the many forms women's sacred space takes. How do you gather with your sisters?