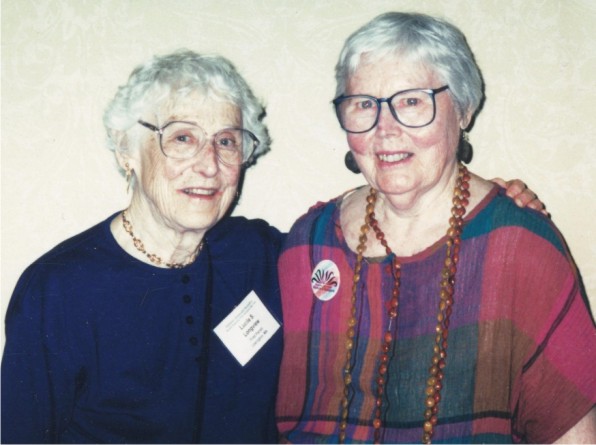 In this 40th year since the adoption of the UU WOMEN AND RELIGION RESOLUTION, we are making a special effort to collect and archive our story.
Do you have photos of women who you remember for their contribution to the UU Women's movement?
Do you know women you could ask for photos, stories, or reflections that you could help send to us?
Please send digital copies of photos, stories, reflections to photos@uuwr.org.
If you know someone we should contact for their help in this project, please email Julia Harris at scotfiddle@aol.com with the contact information.
AND - watch for announcements of a special event at General Assembly!
photo: Lucile Longview and Rosemary Matson
General Assembly this year held some high points: the statement of conscience on Reproductive Justice was approved. Read the DRAFT. Ware lecturer Dr. Cornell West railed against not only white supremacy but male supremacy. He challenged us all to Integrity, Honesty, Decency and Virtue. Watch the VIDEO to get a fuller sense of what he means. It was an electrifying speech. Newly fellowshipped ministers included a large contingent of young women. As someone already past middle-age, this gives me a boost of hope for the future, and also a grand curiosity. How will this new wave change our denomination -- and the world -- yet again? What wil be the shape of their ministry?
In closer focus, this year marked evidence of a closer relationship with our sister organization, the UU Women's Federation. They sponsored two excellent workshops at GA and gave an annual report to the UUA. With a herstory going back at least 150 years, UUWF is the oldest women's organization in our denomination. UUWF is conducting a SURVEY to hear what UU women prioritize in social justice work. We had side-by-side booths in the GA Exhibit Hall, and learned a lot about each other, sometimes "working" each others' booths. It was a good opportunity to explain to many people what the differences in emphasis are between our two groups. UUWF board members were very focused and got into a lot of one-on-one conversations with GA-goers.