We're making preparations now for this summer's General Assembly! UUW&R will have an exhibit booth featuring Red Tent decor (though we won't have the actual Tent, so we can practice social distancing).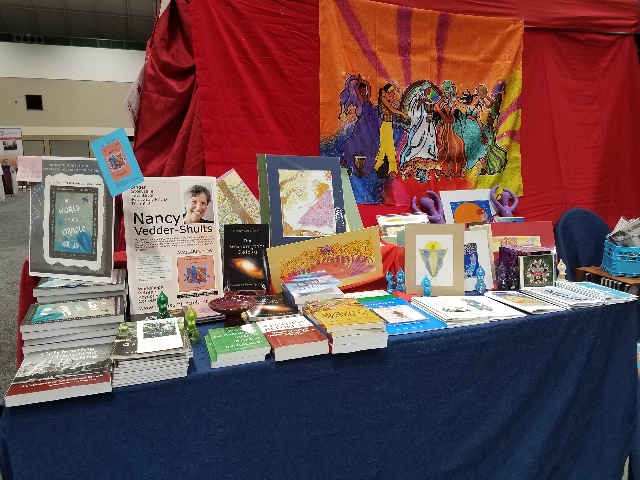 Our featured UU artworks this year are:
Bold goddess and chalice jewelry by Nan Rogers/Studio Aurora
Handmade soaps and custom drinkware by Paulette J/Bougainvillea Bloom
Hand made ceramic chalices by Kimberlee Carlson/Kimberlee Clay
Healing stone bracelets and earrings by Lisa Larsen/Venus Rising
New editions of books by Meg Bowman/Hot Flash Press
More digital downloadable products!
Guest appearances/programs by some of our artists.
We will hold another raffle to give away 6 more gift bags.
So far we plan to include in the gift bags:
Book: Circle Model of Shared Leadership - Elizabeth Fisher
Book: Gaia's Cry poetry - Nan Lundeen
Book: Goddesses, Witches and The Paradigm Shift - Meg Bowman
Booklet: Revolution by Resolution - Dorothy Emerson et al
Booklet: UU Women and Religion Movement herstory - Rosemary Matson
Booklet: The Water Ritual - Carolyn McDade and Lucile Longview
CD: My Heart Is Moved - Carolyn McDade
CD: Widening Embrace - Carolyn McDade
CD: As the River We Flow - Women's Drumming Circle of First U South Bend Indiana
CD: Thirteen Ships - Carole Eagleheart
DVD: Rise Up and Call Her Name - Elizabeth Fisher
DVD: Things We Don't Talk About (The Red Tent movement) - Isadora Leidenfrost
button: "We Want to Change the Recipe" - Rosemary Matson
Goddess figurine - Molly Remer, Brigid's Grove
hand-knit scarf (choice of colors) - Pat Reed
there may be more!