We're working on scanning and republishing these. Please use the Donate button on the bottom of the page if you'd like to help with this project.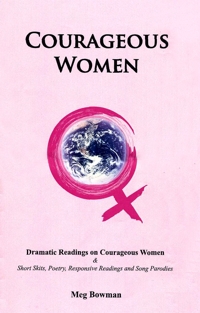 Courageous Women -- Dramatic Readings on Feminist Issues, Vol. VII
Eight Courageous 19th Century Women: Margaret Fuller; Julia Ward Howe, Mary Livermore, Susan B. Anthony, Olympia Brown, Elizabeth Cady Staton, Clara Barton, Charlotte Perkins Gilman.
Courageous Olympia Brown (1835-1926)
Courageous Margaret Sanger (1879-1966)
Courageous Wangari Maathai (Kenya)
Short Skits, Poetry, Responsive Readings and Song Parodies. This is Meg's 12th book. MB-CW currently in revision and available in 2024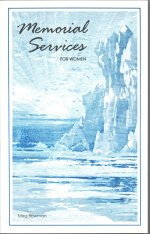 Memorial Services for Women. Non-theistic. 156 pages.

MB-MS
Women's History: Dramatic Readings . . . 210 pages.
Sappho, Hypatia, Mary Wollstonecraft, Deborah Sampson, Emma Goldman, Elizabeth Gurley Flynn.
MB-WH
Celebrating Ourselves . . . 142 pages.
Biographies of the Pacific Central District Women & Religion.
MB-CO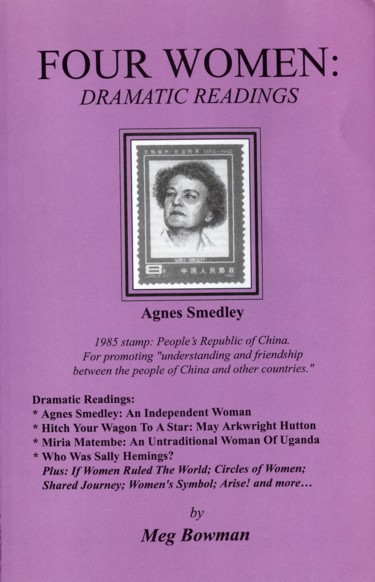 Four Women. 306 pages.
Ideal for readers theater: Agnes Smedley - An Independent Woman, May Arkwritgt Hutton - Hitch Your Wagon to a Star, Miria Matembe - Bog Mouth: An Untraditional Woman of Uganda, Who Was Sally Hemings? plus poetry and readings.
MB-FW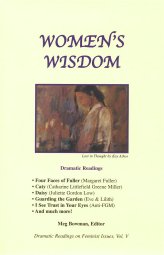 Women's Wisdom . . . 205 pages.
Readers theater on Margaret Fuller, Catharine Greene, Juliette Gordon Low, plus an anti FGM dramatic reading and more.
MB-WW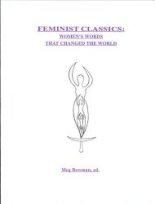 Feminist Classics: Women's Words That Changed the World. 179 pages.
Short articles, poems, book segments, humor from the "Second Wave of Feminism", designed as consciousness raisers.
MB-FC